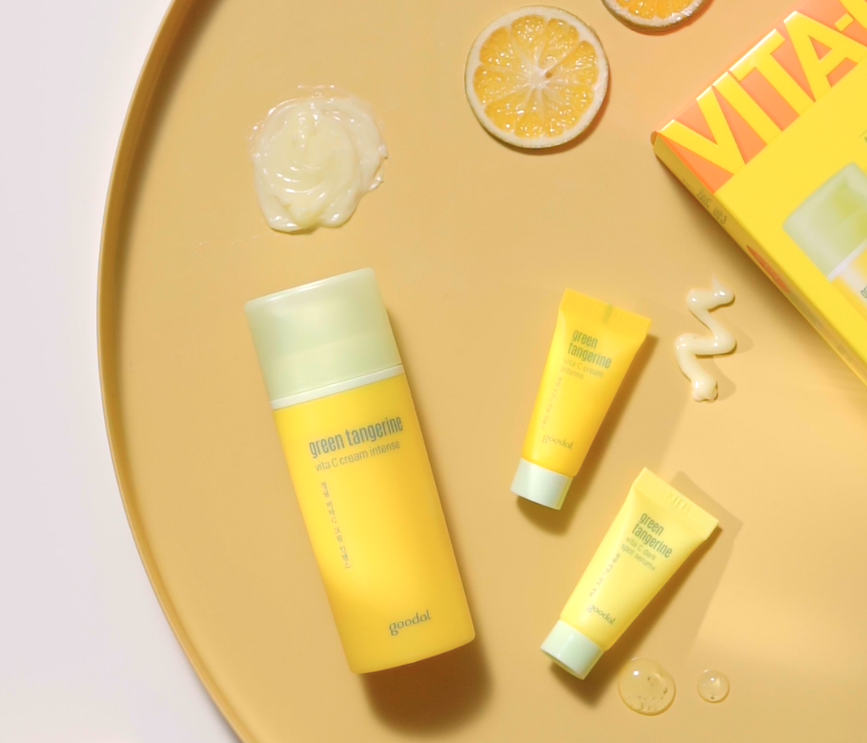 "DEEP Moisturizing, Nourishing,
And Blemish Improvement All At Once"
Goodal GREEN TANGERINE VITA C Cream Intense
We would like to introduce you Goodal's Green Tangerine Vita C Cream "INTENSE", which provides richer hydration for all the dryness in your skin. It is a highly moisturizing whitening cream containing Panthenol which balances the oil and moisture of the skin and Vitamin E which increases the absorption of Vitamin C and provides deeper nutrition. The rich and soft texture makes your skin glow as if you applied thin layer of Vaseline. Just like Goodal's other products in Green Tangerine Vitamin C line, it also plays a role of Vitamin cream that brightens the dark and dull skin tone. We strongly recommend this cream for those who want to improve the skin dryness and dullness at the same time!
This set product consists of 50ml of Intense Cream and 5ml of Vita C Serum and 5ml Intense Cream.
-by MVC Editor, Yulia Park & Irene Kim



24% Green tangerine extract with nature-derived Vitamin C that add vitality and energy to skin.
Vitamin E that provides deeper hydration and helps the absorption of Vitamin C.
Skin-brightening ingredient* that helps removing dark spots and brightens your skin tone. (* Niacinamide, Adenosine)

Light-yellow colored, cream texture
Quite heavy texture, which resembles a thin layer of Vaseline

Natural citrus scent extracted from the green tangerine.